This shop has been compensated by Collective Bias, Inc. and its advertiser. All opinions are mine alone. #HomegatingHeroes #CollectiveBias
It's fall time and that means it's football season!! I'm not typically a huge sports fan – at least when it comes to following sports. Football is definitely the exception, and Michael is definitely thankful for that! Michael loves football and will watch any game that's on. Aside from the actual sport of football, one huge reason why we both love football season is because it's one of the best times of the year to have people over.
We love welcoming people into our home and with football, it's even more of a blast! Hosting people over for the big game is something we always look forward to doing, but it can be a lot of work from prep to clean-up. Today, I'm here to share some of our best tips to have a rockin' homegating day!
TIPS FOR HOMEGATING – PREP, HOSTING, & CLEAN-UP:
1. Prepare The Night Before // Preparation is the key to being successful at anything, and that goes the same for hosting a homegating get together. Instead of cramming everything in the day of the big game, prep the night before. Be there for the moments that matter on game day. Georgia-Pacific and Dollar General will help you stock up on the hosting essentials you need to cut down on cleanup time and avoid a last minute run to the store. Head to Dollar General to stock up on paper products like Angel Soft® 12 Family Roll, Sparkle® 6 Roll and other necessities like Glad® ForceFlex® 13 Gallon and Glad® Food Containers Family Size. Don't drop the ball and miss the big play, stock up and save now so you can relax later and keep having fun with your friends and family.
At home, do your thorough cleaning and organizing the night before. Focus on the rooms that your guest will be in or using, like the family room and bathrooms.
Pro tip that is often forgotten: Check all of your electronics that you'll be using to watch the big game. Check your TV, your cable or streaming service, and sound. The last thing you want is there to be a technical issue before the game starts.
Sparkle® Paper Towels, 6 Roll is perfect for cleaning anywhere in the house – the kitchen countertops, the coffee table, and the bathroom. Angel Soft® Bath Tissue, 12 Family Roll has all that you need for bath tissue. Be sure to leave extra rolls out and available for your guests.
2. Create A Welcoming Atmosphere // There's more to creating a welcoming atmosphere than just organizing and decorating. While those are important things, I'd say that having a welcoming attitude and hosting skills are right up there on the list. Always welcome guests with arms wide open and a smile. Make them feel right at home by sharing with them where everything is if they might need it.
3. Clean Up Right After Everyone Leaves // Friends, one of the best things you can do for your sanity is to get the clean-up over with right after your guests leave. If you put it off, let's be real, who knows how long things may stay out or messy. Trust me, I've had many piles of dishes sit for days, so I've learned my lesson to clean everything right away.
My advice is to start in the kitchen – wipe down the tables, the counter tops, and do all of the dishes. After you're done in the kitchen, move to the living room area and bathrooms. If you and your husband tag-team, you'll be surprised how fast clean-up will go for you.
Glad® Food Containers Family Size and Glad® ForceFlex® 13 Gallon are two of the best clean-up products ever. I don't know about you, but there are always leftovers after the big game. We like to push most of them off to our guests and some we keep for ourselves. Either way, Glad Food Storage are the perfect containers to storage away any leftovers there might be.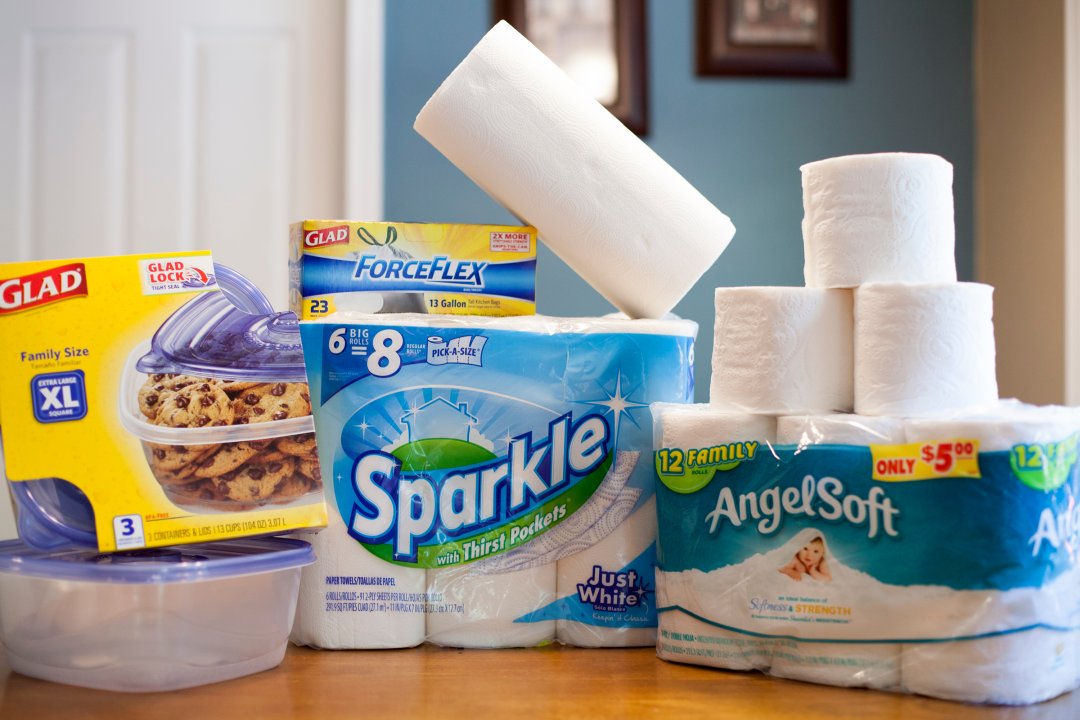 Buy 3 participating items, Save $3 at Dollar General, valid 9/24/17 – 10/21/17
Do you love hosting for the big game? If so, what are some of your best tips? Do you have any secret tips that have been hugely helpful for you? Let's chat!
Let's connect! >> Facebook | Instagram | Twitter | Pinterest | Snapchat